Home

Pediatrics in Practice offers online courses and in-person training in health promotion. View our offerings below.

Enrich your knowledge and skills in Bright Futures and health promotion.




Enhance your skills through interactive faculty development

.



Integrate health promotion into your practice and community.



NOTE: The Pediatrics in Practice learning modules' accreditation through Dartmouth-Hitchcock Medical Center expired on 9/14/10. An application is pending and, until the recertification process is complete and the material approved, you will not be able to obtain credit for this learning activity. We apologize for any inconvenience.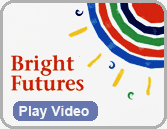 "Pediatrics in Practice makes health promotion possible for today's health professionals, whether you are a practitioner, educator or student!"

~ C. Everett Koop, MD


Former U.S. Surgeon General


Welcome: Visitors will now notice that it is easier to navigate to the many resources on our website. Enjoy your experience.

~ Hank Bernstein, DO


Editor-in-chief